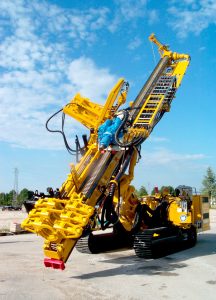 We supply spare parts worldwide for:
Piling Rigs made by Casagrande
Diaphragm Walls made by Casagrande
Hydromills made by Casagrande
Crawler Drills made by Casagrande
Tunneling made by Casagrande
Crawler Cranes made by Casagrande
Multifunction Rigs made by Casagrande
Stone Columns Ground Improvement System made by Casagrande
Drilling Rigs for Universal Applications made by Hütte
Drilling Rigs for Vertical Applications made by Hütte
Drilling Rigs for Geothermal Applications made by Hütte
Equipment for Soil Investigation made by Hütte
Drilling Accessories made by Hütte
Rotary Heads and Hydraulic Drifters made by Hütte
Special Drill Rigs and Drilling Units made by Hütte
Hydraulic Manipulator for Rods and Casings made by Hütte
Company history
Casagrande, an Italian manufacturer of earth drilling equipment and construction machinery for special civil engineering, was founded in 1963. Today, the Casagrande Group includes the companies Hütte Bohrtechnik (Germany), HD Engineering (Hong Kong) and BFS (Germany).
Casagrande itself is a manufacturer of large and small earth drilling rigs, diaphragm wall equipment, tunneling machinery and hydraulic crawler cranes up to 40 tonnes lifting capacity.
The company Hütte Bohrtechnik specializes in the construction of drilling rigs up to 30 tonnes. In addition, they produce accessories for civil engineering, geothermal applications as well as devices for tracked vehicles. Even small drilling rigs on carriages are successfully marketed. The distribution in Germany for all Casagrande products is also carried out by Hütte.
HD Engineering specializes in the production of civil engineering equipment, such as Caterpillars, jig boring machines, horizontal drills, portable drills, truck mounted drills, augers and micro drills for lathing. In addition, drill accessories such as drill rods, hammer drills, down hole hammer, hydraulic quick release systems, reverse circulation drilling tools, etc. are included in the product range.
BFS GmbH (precast concrete systems) supplies and installs machines for the production of large precast concrete elements for sewerage and wastewater systems, power lines and railway sleepers.