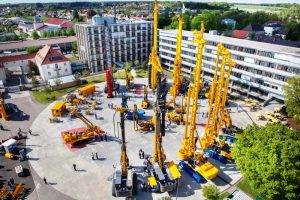 We supply BAUER spare parts worldwide for:
Rotary Drilling Rig
Cutting Systems
Grab Systems
Duty-Cycle Cranes
Mixing and Pumping Technology
Seperation Technology
Company history
BAUER Maschinen GmbH is the world's leading manufacturer of special civil engineering equipment and belongs to BAUER AG. This group has existed since 1994 and has been a listed company since 2006.
Already in the year 1970 the first anchor drilling truck UBW was constructed and produced. Six years later, the first rotary drilling rig BG 7 followed. These two devices represented a unique innovation on the market. At the beginning, these machines were only used in-house. However, the high development costs and the demand for this special equipment led to the sale of these machines to other companies.
The latest equipment includes the BG 28 H – a state-of-the-art PremiumLine drilling rig for use even in the most confined construction sites.
In the course of time, the machine program for the field of special civil engineering has been constantly expanded by the takeover or the founding of companies. The subsidiaries of BAUER Maschinen GmbH such as Klemm Bohrtechnik, MAT Mischanlagentechnik, RTG Rammtechnik, Eurodrill, TracMec and PILECO all have their own profile. This reorganization took place in 2001.
In the 1990s, BAUER entered into a close cooperation with Liebherr after Orenstein & Koppel (O & K) had failed as supplier of the carrier vehicles. Liebherr's carrier vehicles, which resemble the basic excavator chassis with upper carriage, were completed at BAUER in Schrobenhausen and provided with the appropriate drilling tools. After Liebherr had launched its own bottom and trench wall machine, the cooperation with BAUER was terminated. Today, BAUER mainly uses Sennebogen upper carriages from the current Sennebogen crane production. The undercarriage is however a BAUER product.
You can reliably obtain BAUER spare parts for all devices from IME-GmbH in Germany.