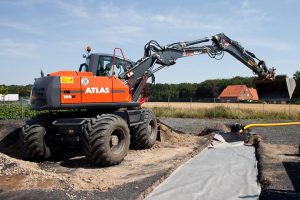 The Machines of the Atlas GmbH
Atlas GmbH has established itself as a leading global manufacturer of construction machinery, offering an impressive range of machines that are highly regarded by construction companies worldwide due to their innovative technologies and performance.
One outstanding example is Atlas cranes. These powerful machines are renowned for their versatility and ability to lift and transport heavy loads with precision and efficiency. Atlas cranes are characterized by their robust construction, advanced control systems, and high load capacity. With a wide range of models, including mobile cranes, crawler cranes, and tower cranes, Atlas provides the right solution for every construction site.
In addition to cranes, Atlas is also known for its other construction machinery. Wheel loaders, mobile excavators, mini excavators, compact loaders, and crawler excavators are just a few examples from their extensive product portfolio. Each machine is continuously developed to meet the growing demands of the construction industry. Atlas places great emphasis on quality, reliability, and innovation to provide its customers with the best possible solutions.
Atlas machines have earned a reputation worldwide for their durability and performance. The company consistently invests in innovation and the development of new technologies to meet the ever-growing demands. With a combination of outstanding quality, advanced features, and excellent customer service, Atlas has established itself as a trusted partner for construction companies around the world.
Company History
In 1919, the company was founded as Hinrich Weyhausen KG in Delmenhorst, Germany. In 1986, it underwent a name change to Atlas Weyhausen GmbH, with headquarters in Bremen and Delmenhorst.
In 1999, the company was sold to EDER Handel und Beteiligungen (EDER Bagger Mainburg). In 2001, it was sold again to Terex Baumaschinen, operating under the name Atlas Terex GmbH. The wheel loader production in Wildeshausen was spun off and continued independently under the name Atlas Weyhausen GmbH.
Over time, the brand "Kaelble" has also been integrated.
Kaelble Wheel Loaders Models: 3200, SL10 B, SL11, SL 13 B, SL14, SL14 B, SL16, SL17, SL18 F, SL18 G, SL20 B, SL22, SL26, SL28 B.
Since March 2016, the company has been operating under the name Atlas GmbH.
The supply of spare parts for wheeled and tracked excavators, as well as Atlas cranes and Kaelble machines, is handled by Atlas Spare Parts GmbH based in Ganderkesee.
IME GmbH – Supplying Atlas Machine Spare Parts Worldwide
IME GmbH takes pride in being a renowned company that offers Atlas machine spare parts worldwide. As an experienced provider of construction machinery spare parts, we understand the importance of reliable and high-quality components to maintain the performance and efficiency of Atlas machines.
Our extensive range of spare parts for Atlas machines covers a variety of components, ranging from wheel loaders and mobile excavators to cranes. We work closely with manufacturers and suppliers to ensure that we can deliver genuine spare parts for your machines.
With our global presence and efficient supply chain management, we are capable of delivering Atlas machine spare parts worldwide. Whether you are located in Europe, North America, Asia, or anywhere in between, we ensure that you receive the necessary spare parts promptly to get your Atlas machines up and running again.
Our dedicated team of experts is available to assist you in identifying the right spare parts and provide technical support. We understand the urgency when a machine is out of operation due to a faulty part and work efficiently and reliably to offer you the best possible solution.