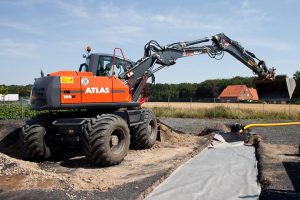 We supply spare parts worldwide for:
Excavators made by ATLAS
Cranes made by ATLAS
Crawler Excavators made by ATLAS
Company history
The firm was founded by Hinrich Weyhausen in Delmenhorst in 1919. At that time the company was known as Hinrich Weyhausen KG but in 1996 the name was changed to Atlas Weyhausen GmbH based in Bremen and Delmenhorst.
In 1999 the company was sold to EDER Handel and Beteiligungen – EDER Bagger Mainburg. Once again in 2001 it was sold to the Terex Corporation and traded under the name Atlas Terex GmbH. The wheel loader division was given autonomy and operates as Atlas Weyhausen GmbH in Wildeshausen.
They have,in the meantime, integrated the brand 'Kaelble' into their product range.
Kaelble Front Loaders
Models 3200, SL10 B, SL11, SL 13 B, SL14, SL14 B, SL16, SL17, SL18 F, SL18 G, SL20 B, SL22, SL26, SL28 B.
Since March 2016 the company operates under the Name Atlas GmbH.
Spare parts for all front loaders, track excavators and Atlas truck mounted cranes as well as Kaelble machines are sold and supplied by Atlas Spare Parts GmbH situated in Ganderkesee.